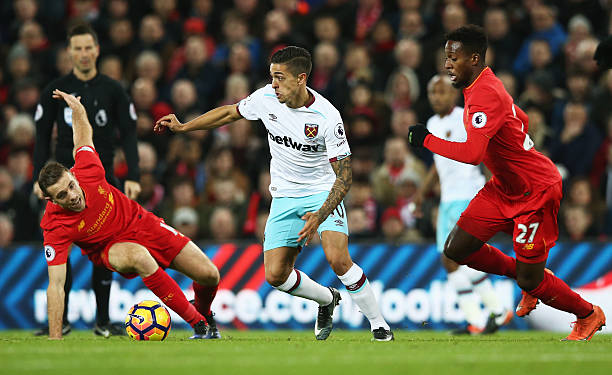 West Ham United boss Slaven Bilic has warned Liverpool that Manuel Lanzini is not for sale.
The Argentina international has been linked with a move to Anfield as a possible replacement for fellow South American and Barcelona target Philippe Coutinho.
But Bilic insists that Lanzini is happy with the London club and is not looking to make an exit as speculation intensifies over a possible switch to Anfield this Summer.
"I speak to Manu every day, he is happy." he said.
"He feels at home, he feels liked. You can see it, you don't have to talk to him and you can see by how he is smiling and is happy.
"He broke into the Argentina national team, so he knows if he plays for West Ham he has a chance of getting a better contract with West Ham and playing for Argentina.
"I am sure he is going to stay with us. He knows he is wanted. He knows the chairman and the board. He was on loan and we took an option even before we had to.
"We activated it with him. He was wanted and was voted the Players' Player of the Year. It is a good thing also, it makes him feel really wanted. He likes it here."
And the former Croatia international feels that too much power is with players and their representatives in the modern game, with several players trying to force moves before the transfer window closes.
"The power is too much on the side of the players and their agents." he said.
"It's hard for the managers. Although sometimes you are in the other situation and I was in that situation a few times.
"But I never, ever advise or ask the players to stop training. That's low. That is low. It should not be like that." he finished.
Liverpool supporters have shown differing opinions over a potential move for Lanzini, so many won't be disappointed by Bilic's words.