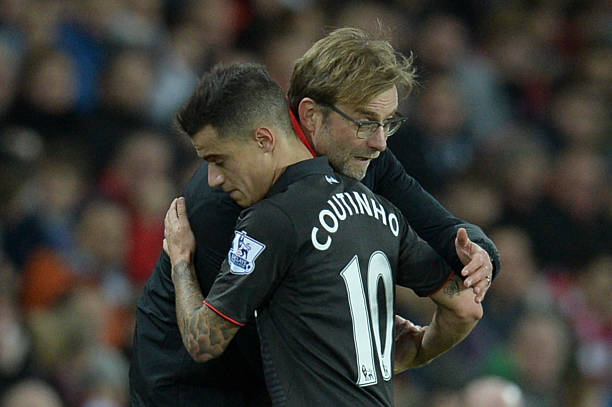 Philippe Coutinho is likely to become a Barcelona player one day. We can be pretty sure of that. The Spanish giants are very keen to sign him and take him to the Camp Nou, but the timing of when they make their move depends on Neymar.
The Brazil international, who has grown up playing alongside Coutinho at international level, is considering whether to leave Barcelona to join Paris Saint Germain in a deal worth an obscene amount of money. The move is looking likely to happen, with mobile gambling specialists Bet365 reporting a flurry of betting activity relating to this potential transfer. The player is now odds-on to be plying his trade in Paris, with previous odds having backed him to stay at his current club.
He will go to the French club and become their star man – something he cannot be at the Camp Nou all the time Lionel Messi is there. He craves more attention and longs to be a serious contender for the top individual awards alongside Messi and Real Madrid star Cristiano Ronaldo. Neymar needs to weigh up whether moving to PSG can push him into that reckoning. Is Ligue 1 taken seriously enough and can PSG make a serious challenge for the Champions League? These are questions he will need to consider.
Neymar has made no secret of his desire to play alongside Coutinho at club level as well as international. He has spoken loudly and regularly about wanting to see his compatriot join him at Barcelona. If he stays with the Catalan club, then he will have to wait at least another year for that to materialise. Barcelona's plan was to wait another season and then make a move to bring in Coutinho as the successor to Andres Iniesta's role in their side. But if Neymar decides to leave them this Summer, they will bring forward the bid and make Coutinho his friend's replacement.
Coutinho is likely to want the move to happen. There can be little doubt about that. He is a South American player and it is practically in their blood to want to play for Barcelona, or Real Madrid, if they get the opportunity to do so. Liverpool have seen Javier Mascherano and Luis Suarez head to the Camp Nou in recent times and it looks like Coutinho will follow in their footsteps.
The former Inter Milan midfielder has become a key member of the team at Liverpool, there's no denying that, and he is the club's best player at present. But losing him would not be the same as losing Steven Gerrard, Luis Suarez or Fernando Torres. Those three were bona fide world-class players who performed consistently and were capable of winning matches on their own or changing them when coming off the bench. Coutinho has shown that he is capable of being a matchwinner, but not on the same consistent basis and he isn't the type of player who can take a game by the scruff of the neck and carry the team to victory. And there's no shame in that.
Coutinho is in a team that doesn't necessarily need someone to carry it anyway. There is more of a balance of talent in the current side and less of a discrepency between the standard of the players. That's not to say that the team wouldn't benefit from having the aforementioned players as part of it, but it shows that Coutinho isn't going to be so heavily relied upon.
The angst and upset over the possibility of Coutinho leaving Anfield this Summer is growing around the fanbase. Some don't believe that selling him is something we can possibly consider. I expect Jurgen Klopp to be more pragmatic about it. He understands how important Coutinho is to the side, but he will also be aware that the Brazilian is not ideally suited to his system. He doesn't press as much as other players for starters and he hasn't had an ideal role in the side either. He predominantly played wide left, with the possibility for cutting inside on to his right foot, last season until he was dropped deeper for the final few games. That worked well and looked like being his role for the upcoming season. But you would think that an indispensable player would have an obvious position in the side.
I personally would rather we didn't lose such a talent, who has the potential to develop further and become a bona fide world-class player. But you have to be realistic about it and accept that Coutinho will want to realise a personal ambition of playing for Barcelona one day. Whether that is this Summer or the next remains to be seen, but it appears to simply be a matter of time.
There's also a lot of room for hypocrisy and double standards in football. The vast majority of fans are hoping that Southampton and RB Leipzig buckle and let us sign Virgil Van Dijk and Naby Keita this Summer so that they can make the next step in their careers. But we don't want to see Coutinho making a similar move. Not even the most ardent Liverpool fan can honestly claim that joining Barcelona isn't a step forward for Coutinho. They challenge for La Liga every season and have been regulars in the Champions League final over the past decade. Yes, we are back in the competition for the first time in a few years, but we aren't going to walk back into the latter stages – where we were under Rafa Benitez when the Premier League was the dominant league in Europe.
A key issue for any move is the price. It seems Barcelona are trying to get Coutinho for a similar fee to the one Manchester United paid Paul Pogba last season. Most fans wouldn't think that's fair, given the market's inflation this Summer. Many are calling for the club to demand £150m for him, which is an ambitious fee – but his contract is long and they are that keen to do a deal they might just pay it. Coutinho did make a positive contribution to the team last season, scoring thirteen league goals and adding seven assists. The market is going that crazy that we might just get that kind of figure.
A big issue with letting him go would be perpetuating the perception of Liverpool as a 'selling club'. We have sold several players that we wanted to keep since we lost our status as a Champions League regular and this would continue the view that we can't keep our star players. It could impact on our ability to attract players, despite being able to persuade Van Dijk that his ambitions are best suited here.
This one could be over and done with in a matter of days or weeks or it could drag on for another year.