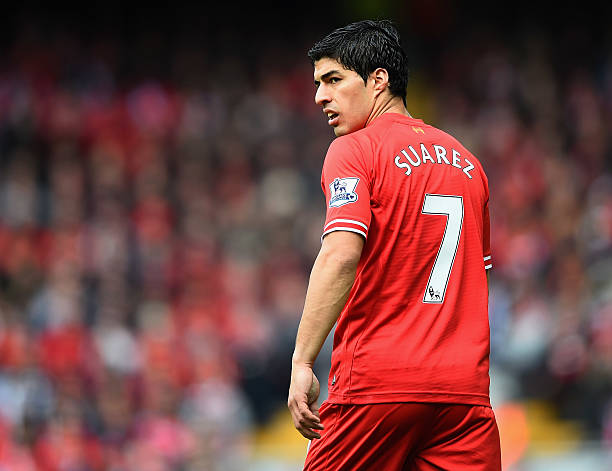 Barcelona striker Luis Suarez has spoken fondly of his time at Anfield and revealed that he would only sign for Liverpool if he returned to the Premier League.
"When I was little, Liverpool was one of the biggest clubs in Europe and was renowned throughout the world." he told LFCtv.
"So when I found out about the club's interest in me I was never in doubt because it's the dream for any player.
"I never imagined that I would get the chance to play there. At Anfield, the fans get right behind you come what may.
"The affection that they show to you is just so special, which in turn makes you lift up your head and respond, rather than letting it drop a little."
"For me, this is just what the Liverpool fans have."
Suarez also backed manager Jurgen Klopp to keep improving the side as he aims to lead his team back into the Champions League next season.
"I think the new manager Klopp, needed a bit of time, because he came in during the previous season, but he's had a fantastic campaign." he said.
"I think that things will go even better next season because he's a quality coach and he has a lot of players who can make the difference."
"Liverpool is a club that should always be involved in the Champions League.
"When I was a kid playing on the Playstation I would always choose Liverpool because they were avery good team.
"When the chance comes around to actually run out at Anfield, which is just incredible for the love that the fans show you."
"These are moment that stick with you and remain in your memory and it makes you love the club even more.
"The fact Liverpool gave me the opportunity to play in the Premier League, also the fact my sons was born there means an awful lot to me."
"I was really happy and comfortable living in Liverpool, and the people treated me really well there.
"All that I experienced in Liverpool represents one of the best times of my life, and I think that in itself speaks volumes."
Suarez also spoke about the day he made the move to Anfield from Dutch giants Ajax, back in January 2011.
"Signing for Liverpool was a really special moment, I couldn't wait for that moment." he said.
"I got the chance to make my Anfield debut a few days later, it was just marvellous!
"When you actually play for Liverpool, and feel the affection from the supporters, that is when you feel even more content and makes the club bigger than you thought.
"A few people have said the city of Liverpool isn't all that nice but for me it is spectacular. It is incredible. My family was very happy in Liverpool.
"My debut, I'd only signed a few days before, only had one training sessions with my team mates.
"I got to play in front of the home fans and score! The song the fans had for me was really great, they are memories that remain in your heart, everyone treated me so well.
"In spite of going through a few very difficult times, the fans always gave me unconditional support, for which I am truly always going to be grateful.
"I think the fans know I tried to do everything I possibly could for the club, I would give absolutely everything and always wanted to do my very best."
"It makes me feel proud to have made a good impression at Liverpool, I always tried my utmost for the team.
"The fact Steven Gerrard has stated that I was the best forward he'd played with in his whole career, something that says everything for me."
"I had many special moments, I had difficult ones as well but a club like Liverpool knew just how to provide support to give me a lift and that has been very important.
"My happiest time at Liverpool, my debut was important, scoring goals in the Derby against Everton, that was sweet! I had some thrilling moments at the club too, winning the Carling Cup was one of them."
"Scoring four goals in a game at Anfield was a brilliant moment. There are special moments I shared alongside Steven where even though I didn't score myself, they are still incredible and unforgettable times.
"We did everything we could to win the Premier League, looking back it was an amazing moment but it just wasn't meant to be. But there really were lots of great times.
"My greatest team mates? There are tons of them. Steven Gerrard and Philippe Coutinho. They are great players who made me feel more at ease on the pitch.
"I had dreamt of, and really wanted to be able to play alongside Steven Gerrard in his prime, his words always helped me and I'll always remember them."
"To have shared experiences with a player like Coutinho, who was very young at the time, I wanted him to keep improving – it was a real privilege for me.
Suarez spoke about the Summer of 2013 – when he wanted to leave Liverpool to join Premier League rivals Arsenal. The Gunners made an offer for the Uruguay international, which was turned down the by Reds before Suarez changed his mind and opted to stay after speaking to Gerrard.
"What I regretted at Liverpool was when I'd wanted to sign for another club and asked to leave Liverpool, until Gerrard spoke to me and said I'd be making a a mistake." he said.
"Gerrard told me I should wait for my dream move to Barcelona, which he knew about.
"That was the only thing I regretted. I've always said if I ever come back to England at any time in the future, I'd only ever go back to Liverpool." he finished.
Liverpool supporters will be hopeful that Suarez will one day return to play under Klopp at Anfield.