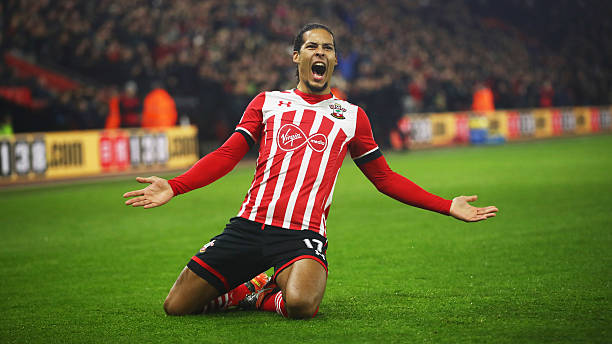 Southampton appear to be delaying the inevitable with their claims of an illegal approach by Liverpool for defender Virgil Van Dijk.
The Holland international is widely reported to have made his mind up over his future by deciding on a switch to Anfield this Summer, with plenty of claims that the involvement of manager Jurgen Klopp being key to that choice. This decision has cost Southampton the chance to extract as much money from the purchasing club as possible as it means that financial heavyweights Manchester City and Chelsea are now both effectively out of the race to land the centre-back. And it has probably irked them somewhat.
Had Van Dijk been of similar mind and decided that he would pick whichever club came in with the biggest offer, then Southampton could sit back and watch the trio fight it out for the hottest defensive property in the country. But his desire to move to Anfield ahead of the others means that the bidding war is now down to a one horse race. All that's left is for them to agree a fee with Liverpool and then go about finding themselves a replacement for their star player – which won't be easy, especially if they reject a part-exchange deal involving Mamadou Sakho. They'd be foolish to do so.
Southampton running to the Premier League crying foul play has happened several times before, with them complaining about approaches from rivals for the likes of Calum Chambers, Toby Alderweireld and Dejan Lovren in the past. All three players ended up joining the clubs Southampton point blank refused to sell to at the outset. It looks like a face saving exercise to show their strength to their supporters, and rivals too, in an act of defiance to try and shake off the tag of being a selling club. Nobody should be buying it.
Van Dijk is still likely to make the move to Anfield this Summer, just take a look at the odds being offered by most bookmakers, but it is now likely to become a protracted saga that could take weeks, rather than days, to resolve. The Saints, which is the kind of image they're trying to project incidentally, could easily take £30m and Sakho and get on with their Summer business. But they've decided to drag out the situation by claiming foul play on Liverpool's part.
And that is where things get interesting, because if Van Dijk has made his made up to join Liverpool over rivals offers from Chelsea and Manchester City – why are Southampton not threatening to report those clubs as well? Are they trying to keep them sweet in order to try and keep the interest there should a bidding war ensue? Or is it that those clubs are now out of the running following Van Dijk's affirmation that Anfield is the right place for him to make his next home? There's also the likelihood that Arsenal, Manchester United and Everton have all been in direct contact with Van Dijk, his representatives or both – so why are they too exempt from the complaints?
It would appear that Southampton are resigned to losing Van Dijk this Summer, no matter how many times they say he's not for sale, and that they are attempting to enforce a reputation within the game that few will take seriously. It's clear that they are a selling club, nobody can legitimately claim otherwise following fifteen years of their star names moving on to bigger and better things. It's obviously a shame for their fans that the academy down there can turn out such talent on a consistent basis before losing the likes of Theo Walcott, Gareth Bale, Alex Oxlade-Chamberlain etc. It's also a shame for their fans that their scouts can identify talent like Sadio Mane, Nathaniel Clyne, Virgil Van Dijk etc before they are sold on for big profits. But surely it's better to be in that position that several other Premier League clubs where such talent doesn't appear, as frustrating as it may be?
Liverpool must irritate, at worst, Southampton supporters given the fact they've lost Adam Lallana, Dejan Lovren, Rickie Lambert, Nathaniel Clyne and Sadio Mane to Anfield already in the past four years. But their club has received good money, Lambert aside perhaps, for these players and have been able to find more than adequate replacements. Van Dijk was ultimately the man to replace Lovren at St Mary's and it looks like he will replace him at Anfield also (in the first XI anyway). If Southampton had been able to keep hold of all the players they've reluctantly sold in the past decade they could have had one heck of a side, but football is tier based and they haven't got the clout to force these players to stay.
Liverpool have been in a relatively similar position at times over the past ten years or so with the likes of Xabi Alonso, Fernando Torres, Luis Suarez, Javier Mascherano and Raheem Sterling all making moves despite the club wishing to keep them. It happens to all bar the very top few clubs in the world. It's how things work in football and Southampton as a club must be very aware of that by now, no matter how infuriating it is to regularly lose key players.
Virgil Van Dijk is highly likely to be the next star player to make a move away from St Mary's and Southampton will no doubt extract a handsome fee from Liverpool for his services, but things could be a whole lot simpler if they got a deal done quickly with Mamadou Sakho an instant replacement.
But they clearly don't want to do things the easy way and I doubt their fans can blame them.